Grinder Programme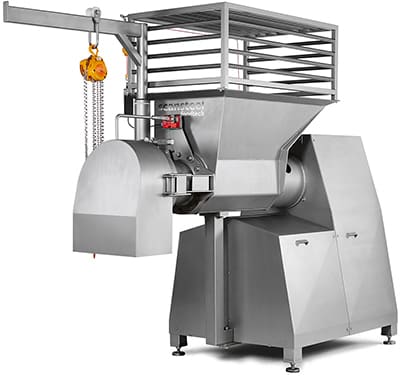 Gennem årene har scansteel foodtech Group erobret positionen som LEVERANDØREN med verdens bredeste hakkerprogram. scansteel foodtech tilbyder bl.a. følgende hakkerprogram: Hakkere med enkelt snegl og med dobbelte snegle.
scansteel foodtech hakkere anvendes typisktil følgende (men ikke begrænset hertil):
• Ferske kødråvarer.
• Frosne blokke med kødråvarer.
• Knogler/ben fra okser, svin, fjerkræ, fisk etc.
• Fedt – alle typer og temperaturer.
• Fisk – alle typer.
• Fiskeaffald.
• Biprodukter.
GRINDER - SINGLE WORM FEATURES:
• Fremstillet i rustfrit stål AISI 304.
• Hakkere fra Ø250 mm – Ø550 mm.
• Hakkekapaciteter fra 2000 – 40.000 kg/t.
• Valgfrit hydraulisk knivtilspændingssystem.
• Stort tragtindfødningsareal for forebyggelse af brodannelse.
• Lavt støjniveau.
• Lavt energiforbrug.
• 75 kW – 200 kW motor.
• 1 eller 2 enheder af demonteringskran.
• Heavy Duty konstruktion.
SUPERGRIND 400/260
The SuperGrind 400/260 & 550/260 can be equipped with 90 kW, 110 kW, 132 kW, or 160 kW motor and with single or double knife set. Globally, the scansteel foodtech SuperGrind 400/260 & 550/260 are probably the toughest and most Heavy Duty "Work Horses" among meat raw material grinders. Designed specifically for global pet food and rendering industries for grinding of:
• Hele okseknogler – alle typer, inkl. lårbensknogler.
• Hele svineknogler – alle typer, inkl. lårbensknogler.
• Fjerknæsknogler – alle typer.
• Fiskeben – alle typer.
• Forhakkede knogler.
• Bløde kødråvarer.
GRINDER - DOUBLE WORM
These truly unique and universal grinders provide first-class grinding results, fully comparable with and even surpassing those of conventionally specialised grinders for fresh, tempered, or deep-frozen blocks without changing anything but the incoming raw material to be ground, coarsely or finely, as required.
Hakning med høj ydelse indenfor et bredt kapacitetsområde opnås gennem lav tolerance, rigidt design med glatformede snegle, der er svejst og slebet superfint af dygtige danske håndværkere, kombineret med glatte overflader fra præcis CNC bearbejdning af foringer.
Betjeningspanel er indbygget i maskinkabinettet. Betjeningspanel kan svinge væk for at give fuld adgang til maskinens indre for vedligeholdelse etc.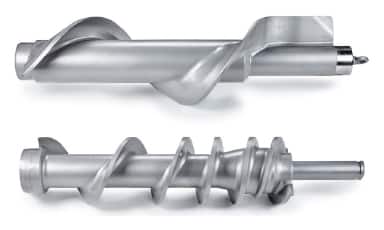 Let og effektiv rengøring af både fødesnegl og hakkersnegl, som begge let kan adskilles og fjernes sammen med knivsæt og andre lignende dele ved hjælp af det medfølgende værktøj. Hulskiver kan let fjernes og udskiftes under produktion vha. det medfølgende udtrækkerværktøj, der passer til det indvendige gevind i hulskivens centerhul. Det hygiejniske design sikrer let adgang til og rengøring af alle overflader, der er i kontakt med produktet. Produktområde og drivkomponenter, som f.eks. leje etc., er fuldstændigt adskilt af brede skyllekanaler med fuldt udsyn og adgang til lejetætninger og drivkoblinger. Dette sikrer komplet fødevaresikkerhed, da det er umuligt for smøremidler og lejeurenheder at komme ind i produktområdet. Foldbare sikkerhedsskærme forhindrer adgang til roterende dele under drift. Alle overflader er enten glatpolerede eller slebet og glasblæste.